CLIENT: Eissport Errichtungs-, Betriebs- und Management GmbH, Wien
Extension to Austria's most modern Ice Arena
In 2011, the former Albert Schultz ice rink presents itself as a state-of-the-art ice arena with three play areas and space for up to 7,000 visitors in the large ice hall. Austria's largest ice sports centre was renamed Erste Bank Arena in 2018. The growing number of visitors to ice hockey matches necessitated an increase in seating capacity. The existing seats were completely retained and were supplemented by new grandstands in the north and at the corners with an additional 2,296 seats to a capacity of 7,000 spectators. The main girder with its technical facilities and the entire southern half of the building were not affected by the conversion.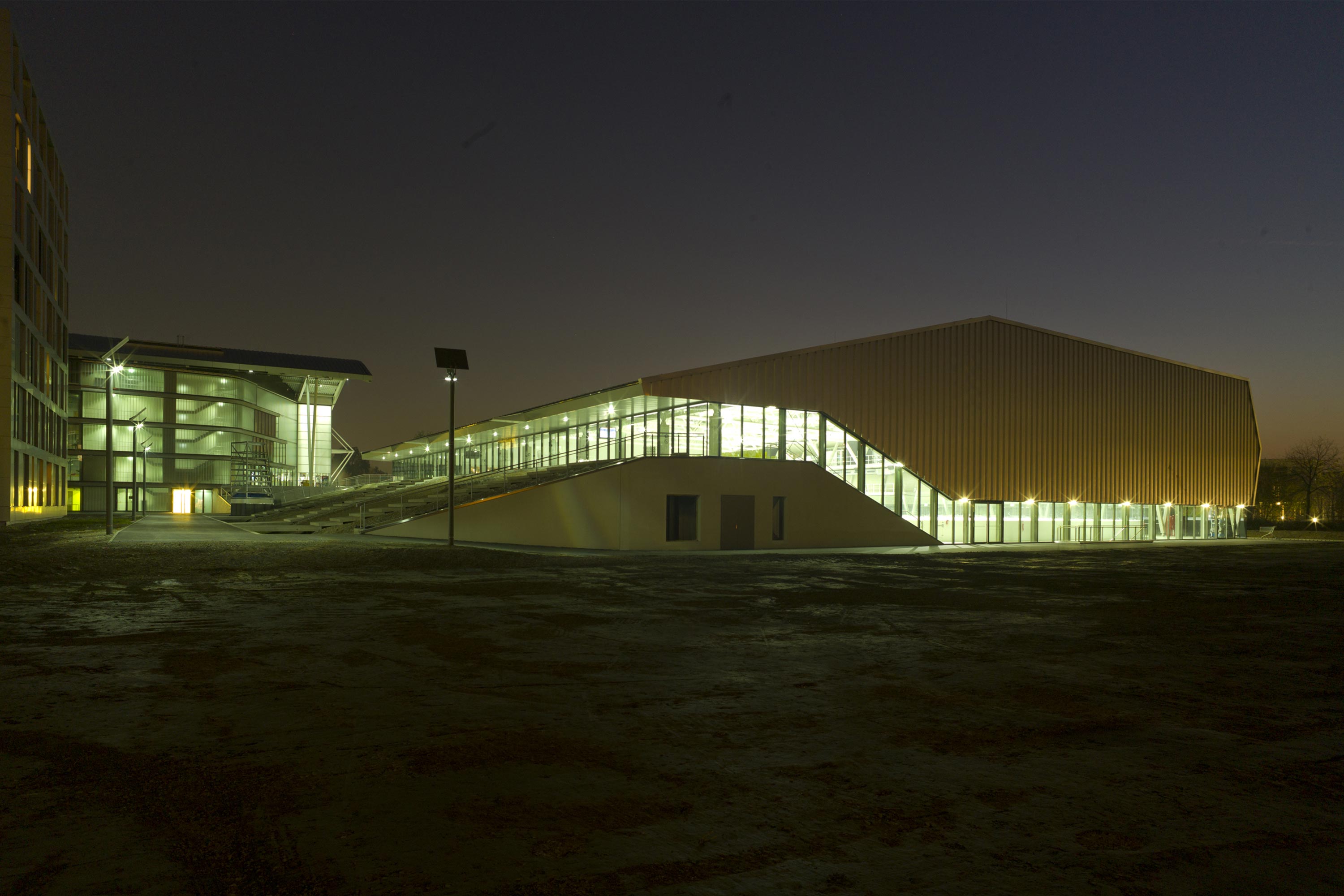 Inviting and transparent Architecture
The architecture of the Erste Bank Arena is inviting and transparent. The large supporting structures of the roofs seem to slightly span the halls and generously provide the space for a "promenade architecturale" with a sequence of views and insights into the three ice halls and the action on the ice slopes. The use of light, transparency, materiality and construction forms the continuous architectural guideline within which individual atmospheres for different areas were created. Thus, each of the three halls, as well as the restaurant, club area or VIP area, finds a clear expression and its own position in the whole.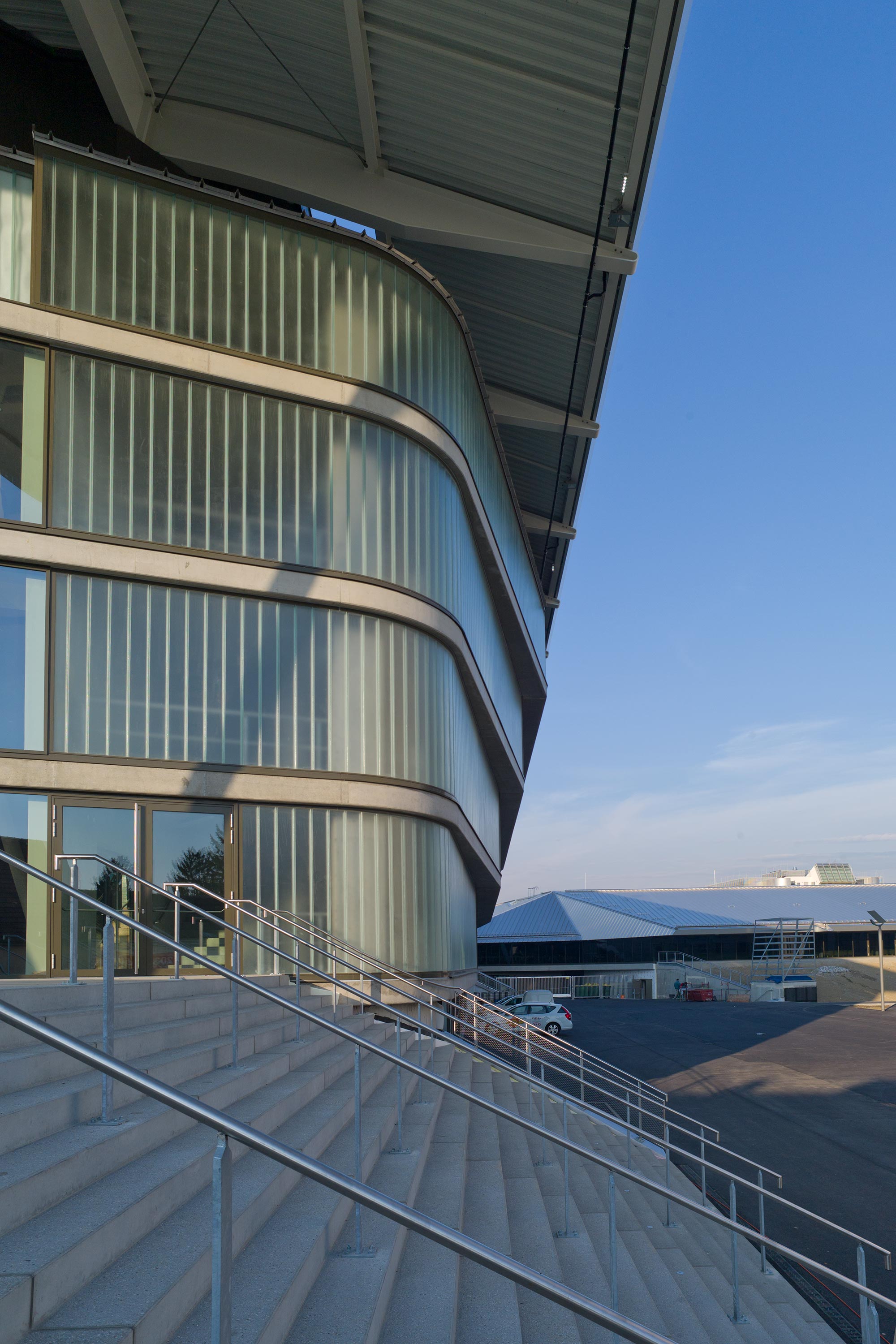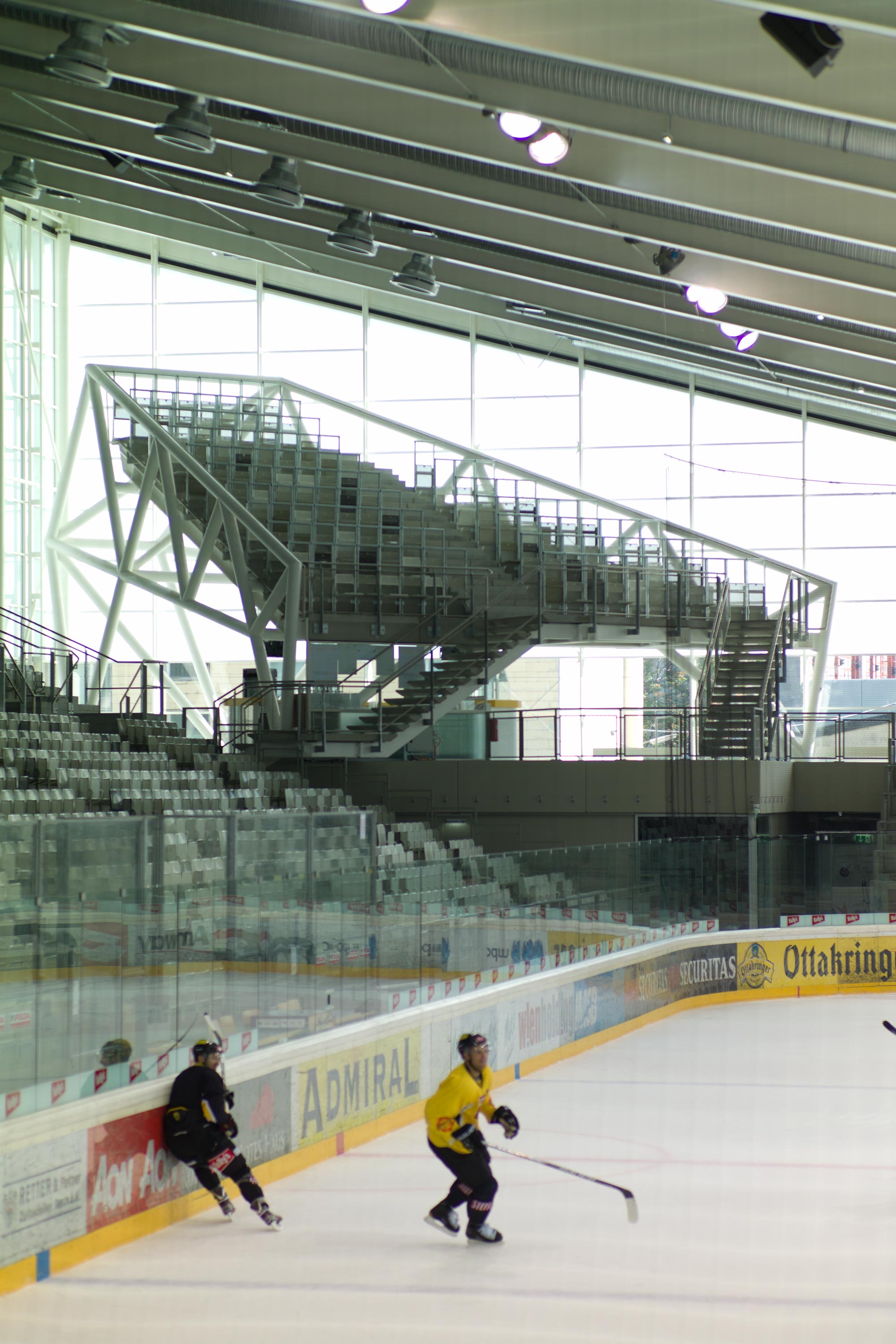 Innovative Structure of the ERSTE BANK ARENA
With the choice of steel for the load-bearing structure and reinforced concrete prefabricated slabs, a short construction period and the logics of the connection of new and existing building parts were fulfilled. The roof cladding with its substructure was dismantled and the substructure was reused. The existing beams were loosened in the support of the large truss girder and adapted to the new support situation and installed in the new position. The façade construction was rebuilt due to the new geometry in the system of the existing building.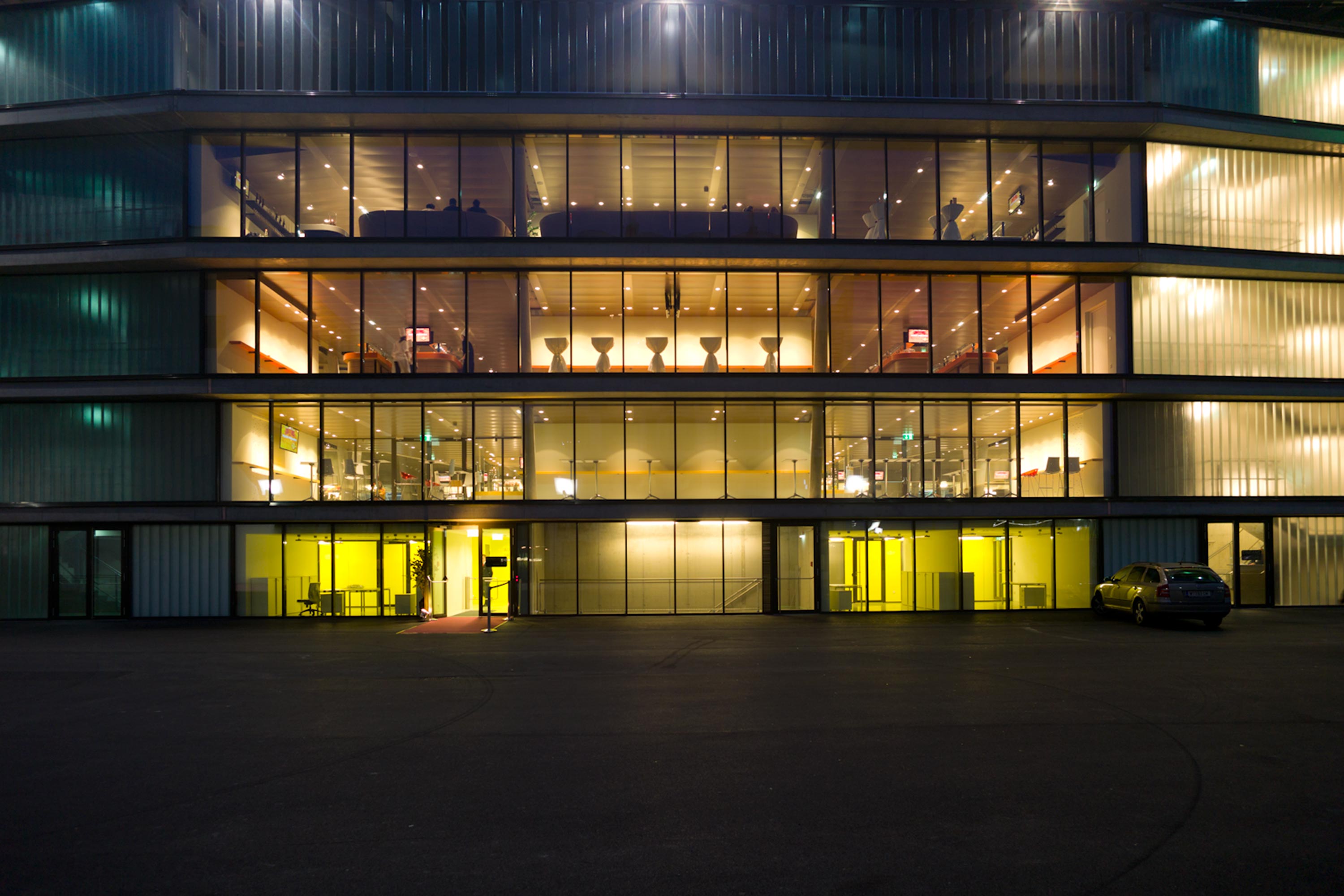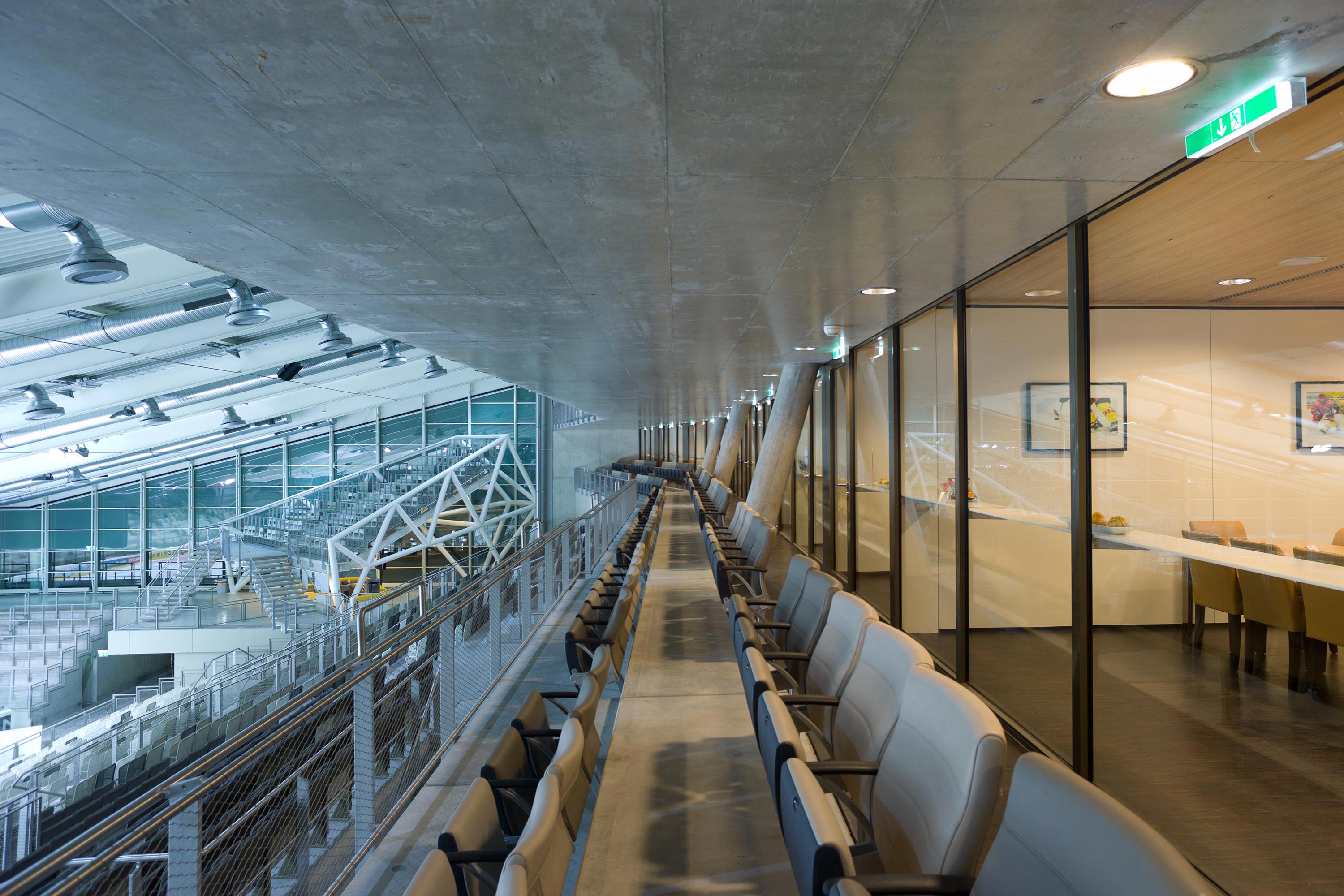 VIP Area and GOLDEN CLUB
The VIP area was designed as a separate floor in the north stand. It contains 23 boxes for 220 guests. The boxes were furnished according to the wishes and ideas of the tenants. The sizes of the boxes, including the grandstand, range from 37 to 88 m² and each offer space for 7 to 28 guests. There is a short cut to the Golden Club below. The Golden Club with its 770 seats is located on the grandstands N1 and N2. During the breaks, club guests have their own lounge in the area of the north façade.
ERSTE BANK ARENA
VIENNA CAPITALS
(CORE TEAM)
FACTS
GENERAL PLANNER
Arge-GP-EZW
GENERAL CONSULTANT
Vasko+Partner, Vienna
BUILDING DATA
HALL 1:
Ice rink 30 x 60 m
Grandstand for 7.000 visitors
HALL 2:
Ice rink 30 x 60 m
Training hall
HALL 3:
Ice rink 30 x 60 m
Multifunctional use
1.000 to 3.000 visitors
Underground car park:
267 parking spaces
Gross floor area:
40.300 m²