INVITED COMPETITION,
1. PRIZE
New offices for the Addendum Editorial Staff
Addendum is an Austrian media project and a research platform. The editorial team of Addendum has grown steadily and the former premises of a bank branch in Vienna-Neubau were chosen as the new location. The elongated room up to the garden is already visible from the street. By arranging different zones in a row, it was possible to create a varied and spacious office landscape.
The entrance area serves as a reception area, but can also be used for informal meetings and smaller events. The necessary infrastructure of a kitchen unit is hidden behind a bright orange wall panelling, opposite is a large sofa made of blue velvet. As a contemporary interpretation of the large room typology, there are numerous possibilities for retreat and communication in addition to the adjoining large workspace, including telephone boxes, meeting rooms or a kitchenette with a staff lounge. The long worktables refer to old library tables. The table tops are made of brushed, brightened oak with the typical inlays of dark linoleum.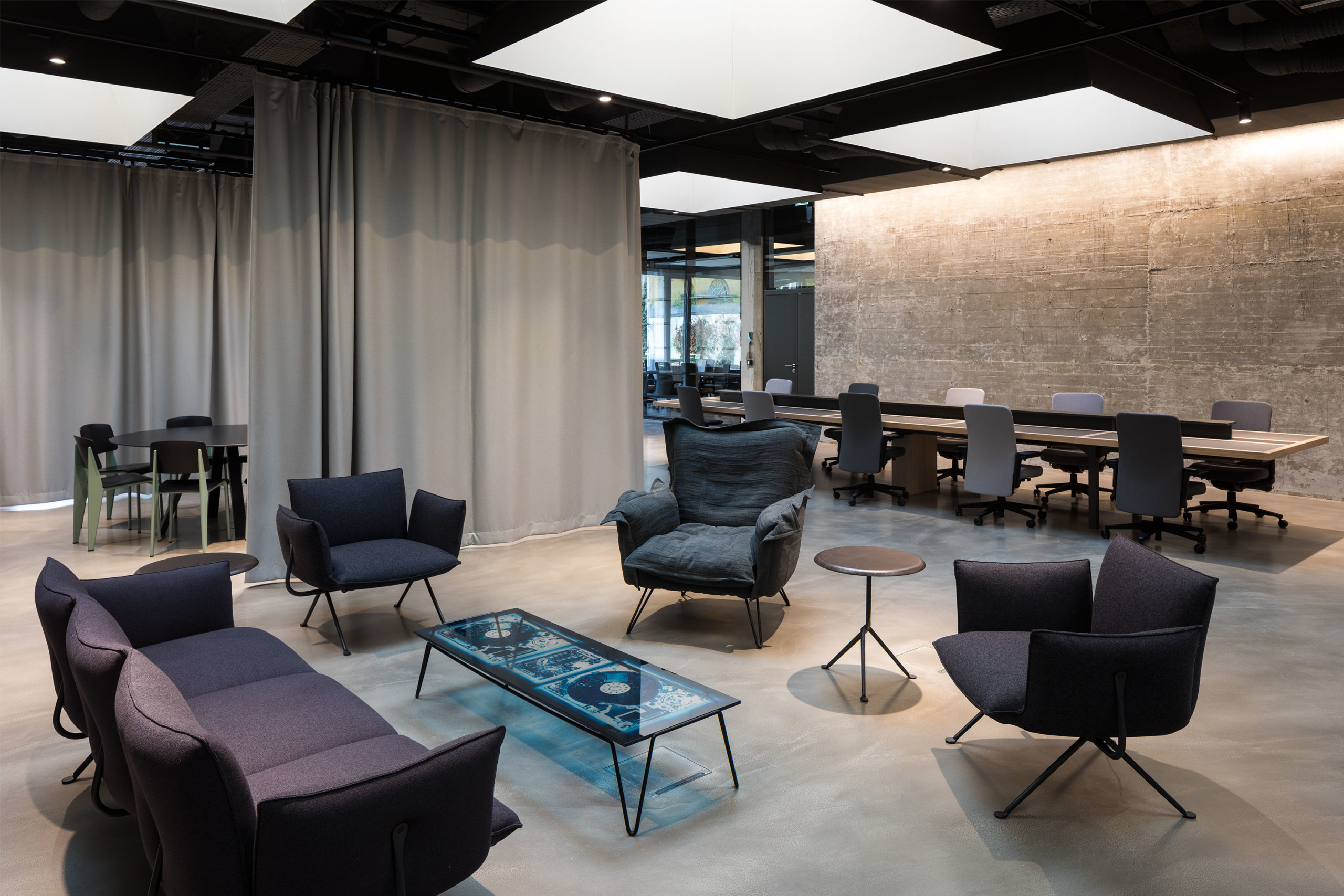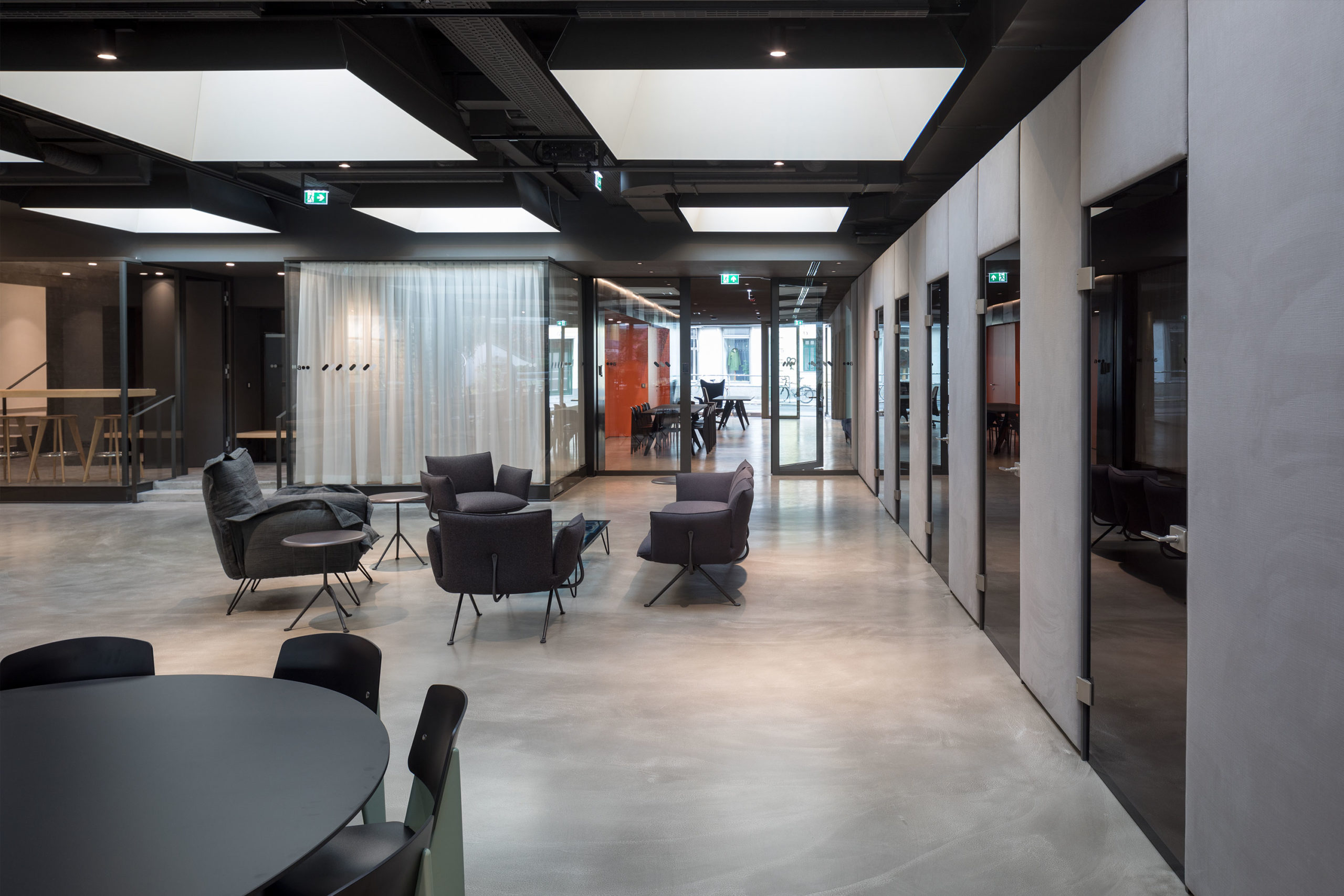 Challenge and situation of existing buildings

The existing building with its difficult daylight situation posed a challenge for the design of the offices. Lighting pyramids made of sheet steel are used to stage the lighting. The outside of the pyramids is dark, as are the open installations on the ceiling.
A rail system can be used to divide the large area into different sections with an acoustically effective curtain. In this way, one half of the room can be quickly transformed into a lecture room for 60 people or a round, intimate meeting room for a team project.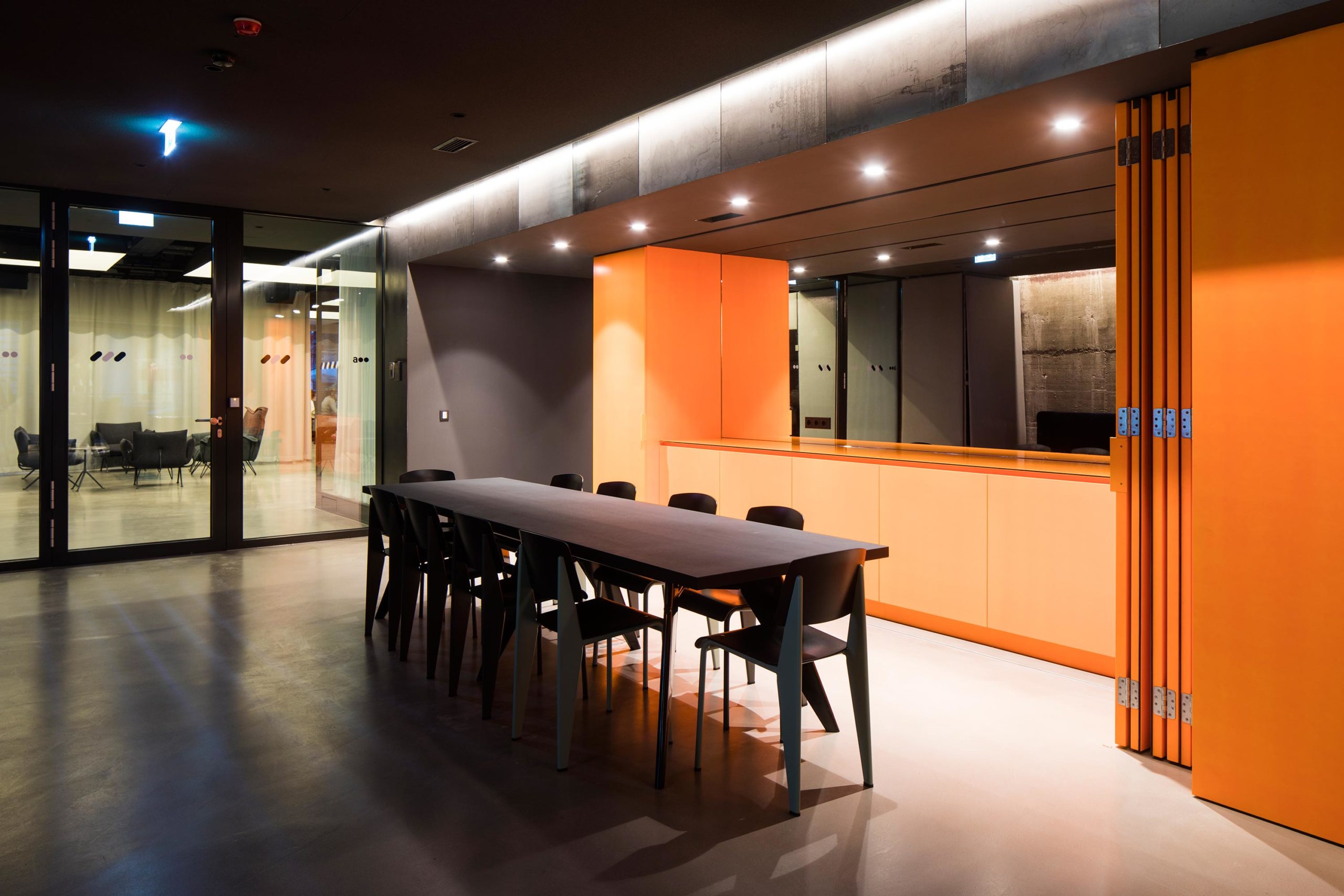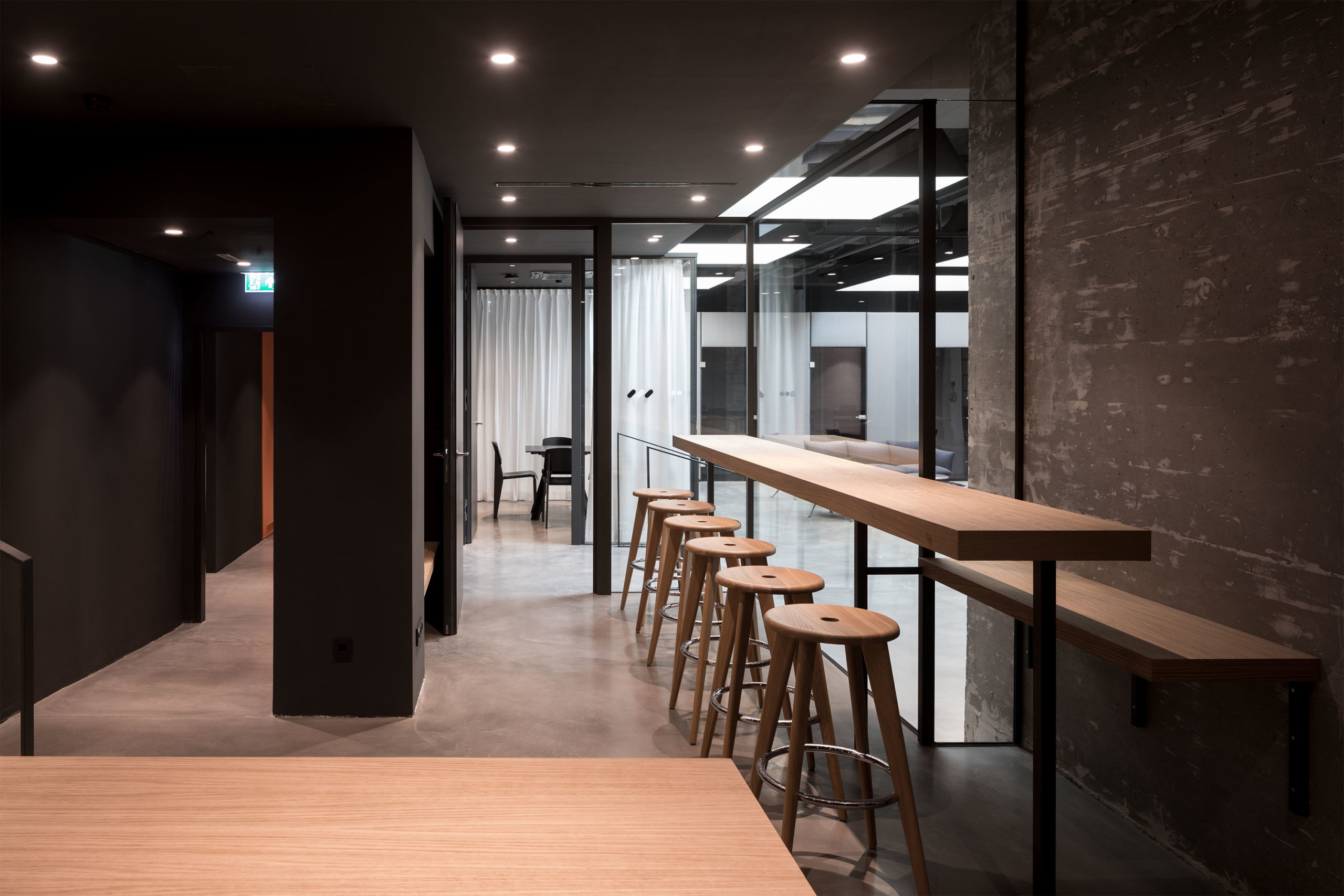 The material concept is based on lifting out and reinforcing the original materiality in order to underline the haptic and sensual quality. The vault appears in its concrete surface and the floor. Dark crude steel and oiled matt black wooden surfaces form a contrast to the soft upholstered chairs in various grey "suit fabrics".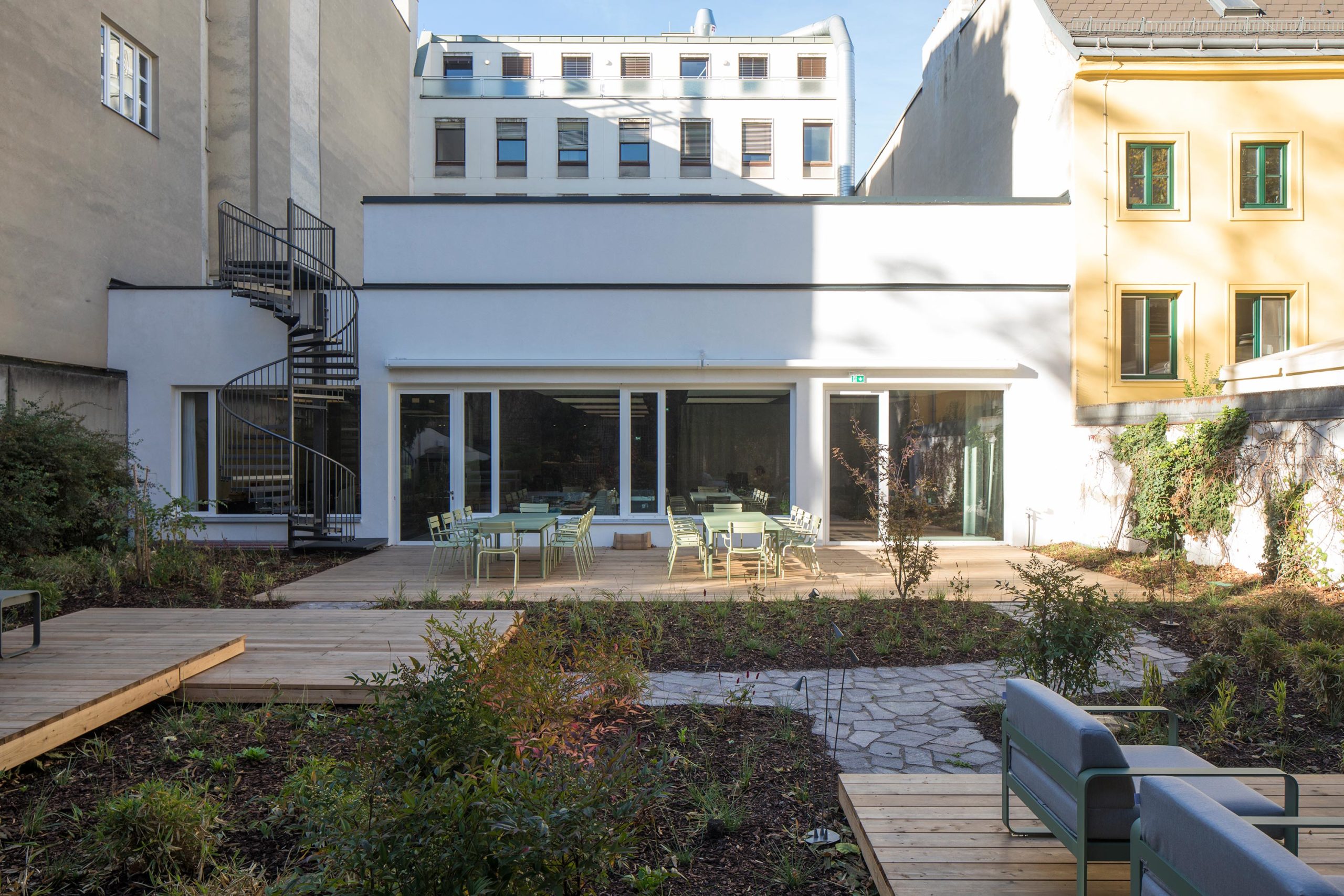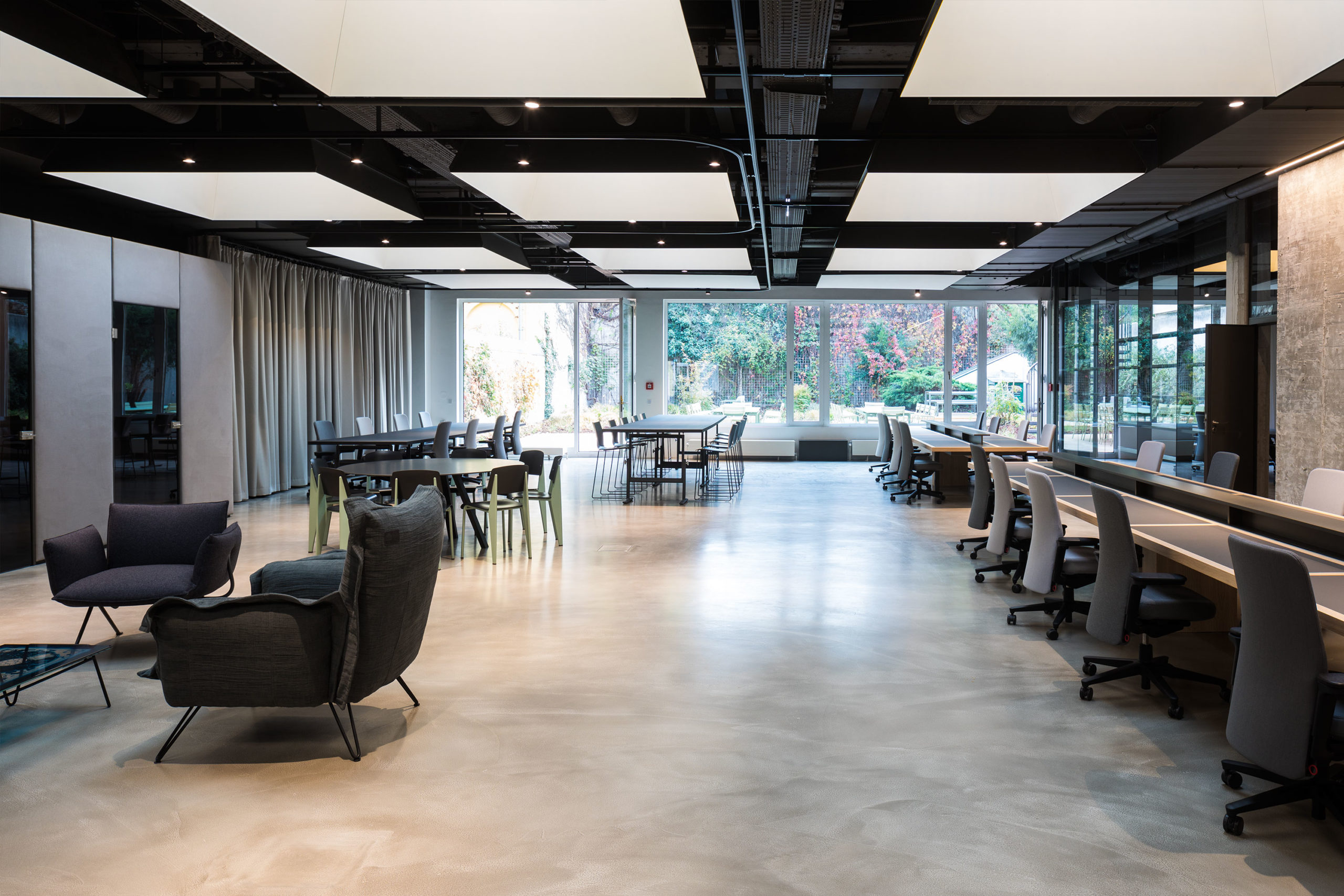 Attractive views for the Addendum Team
Room-high glazing enables employees to enjoy an attractive view from the inside to the outside at any time of the year. The closed courtyard situation was enlarged by lush planting with shrubs and grasses. The garden invites team and visitors to meet and linger on three wooden terraces of different sizes and settings. A large wooden terrace extends the interior to the outside and invites the entire office to eat or work together. The two smaller terraces offer the opportunity for retreat and meetings in smaller groups.
CONSULTANTS
Landscape architects:
Lindle+Bukor, Vienna
Structural consultant:
Dr. Reinhard Schneider, Vienna
Building services:
TB Obkircher, Vienna
Construction physics:
ic consulenten, Vienna
Fire protection:
Kunz Brandschutzplaner, Mödling
BUILDING DATA:
Usable area:
460 m2
Garden:
310 m2